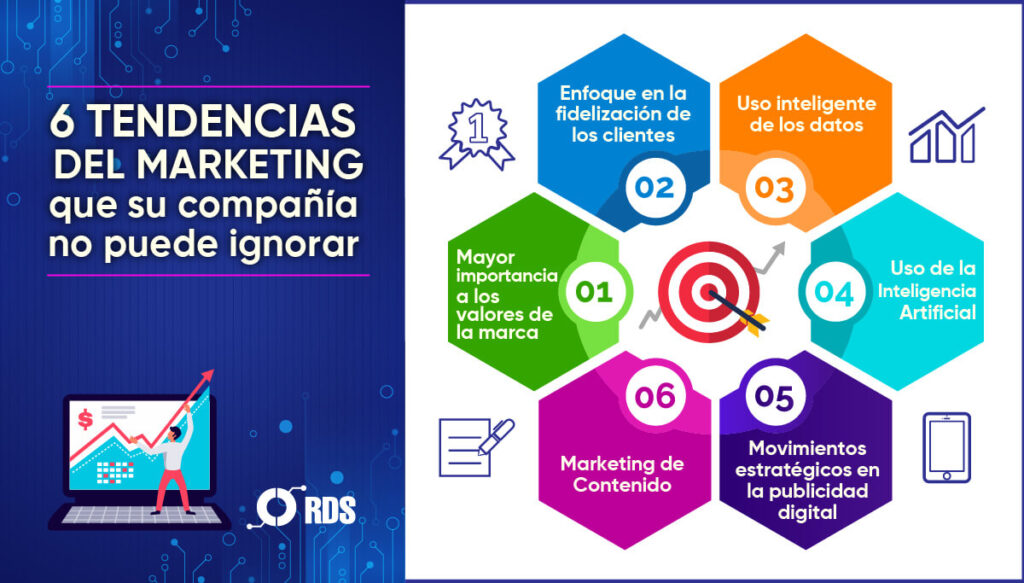 Red Design Systems
The world is changing! So is business.
Therefore, your company cannot be left behind with marketing trends.
We invite you to learn about and apply these actions that are proving their effectiveness in the business world, when it comes to attracting customers, strengthening the relationship with current ones and making business grow.
Take note:
Increased importance of brand equity. Brand value is nowadays much more essential to boost the company's growth, since it is the additional value that makes a product or service even more recognized. Work on the development of the image so that it gains presence and visibility, alongside your commercial offer.
Focus on customer loyalty. It cannot be overemphasized that the relationship with your current customers is essential to maintaining the growth of your business. The experiences you offer them and the personalization of services are strategic actions that ensure they recommend your brand. That's worth too much!
Smart use of data. Your company, like all companies, must have a lot of information on customers, processes, trends, etc. The organization and visualization of this data is crucial when making business decisions and applying marketing strategies. Get trained in the use of tools such as Power BI and apply data treatment processes to use them strategically.
Use of Artificial Intelligence (AI). Every day more and more processes are simplified with the use of AI tools. From professional image editing to the automation of marketing tasks, businesses today have many more resources to increase the efficiency of their work. Do your research on the most appropriate tools for your case, get trained in their use and/or turn to those who have already gained expertise in their use.
Strategic moves in digital advertising. It's no secret that famous advice "advertising is selling". Today and always, paid advertising is essential for every business, but doing it intelligently is key to its success. That's why you need to know how to optimize campaigns on platforms such as Google Ads, Meta and others. Here, trends and strategies evolve and that is why it is essential to get advice and do it well.
Content Marketing: Content is still king. Brands create and share relevant and valuable content to attract and retain their audience through their digital channels. Think about what you can teach your current and potential customers, give them value, in addition to your products or services, to create a close relationship with them. Keep in mind that a good marketing strategy necessarily includes quality content.
You know that business growth depends on many factors and is a process that takes time, but, trends show the power of actions like the above to achieve better and faster results.
Put these tips into practice, make them part of your business plan, and seek professional advice whenever necessary.
Tell us what you have in mind to boost your business and we will support you with a winning strategy.